---
Available now:
Developmental States Beyond East Asia
Edited by Jewellord T. Nem Singh and Jesse Salah Ovadia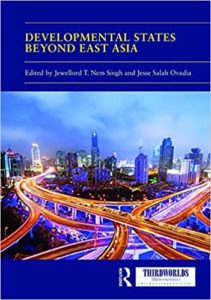 Available here
Summary
This comprehensive volume reviews recent scholarship regarding the role of the state in economic development. With a wide range of case studies of both successful and failed state-led development, the authors push the analysis of the developmental state beyond its original limitations and into the 21st century.
New policies, institutional configurations, and state-market relations are emerging outside of East Asia, as new developmental states move beyond the historical experience of East Asian development. The authors argue for the continued relevance of the 'developmental state' and for understanding globalization and structural transformation through the lens of this approach. They further this concept by applying it to analyses of China, Latin America, and Africa, as well as to new frontiers of state-led development in Japan and the East Asian developmental states. This book expands the scope of research on state-led development to encompass new theoretical and methodological innovations and new topics such as governance, institution building, industrial policy and the role of extractive industries.
This book was originally published as a special issue of the journal Third World Quarterly.
_____________________________________________________________________________
Hardback / February 2016 / 248pp/ RRP £40.00
BUY here for £27.99 plus free worldwide shipping.
Summary
Focusing on local content in the oil and oil service sectors and the changing accumulation strategies of the domestic elite, this book questions what kinds of development are possible through natural resource extraction and argues that a new form of developmental state—the 'petro-developmental state'—may now be emerging in the Gulf of Guinea, allowing states to capitalise on a resource that has traditionally been thought of as a 'curse'. In a new moment for the extraction of oil created by a changed domestic context in Angola and Nigeria and changed geopolitical realities, new possibilities exist for state-led economic and social development and capitalist transformation.
Ovadia contends that ultimately whether development or underdevelopment results from the transformation depends not only on historical conditions, but also on power relations and struggles at the level of civil society. Local content is perhaps the single most important innovation in energy policy in the Global South in recent decades. Expanding debates about state-led development and the developmental state, the concept of a petro-developmental state offers an explanation for how some of the most strategically significant countries in Africa can achieve meaningful economic and social progress
Reviews
'This informed, nuanced monograph adds to the emerging "Africa Rising" discourses. The "petro-developmental state" advances notions of African capitalism and developmentalism with a focus on local content, entrepreneurs and civil society with original case studies of indigenous companies and NGOs. Ovadia anticipates post-2015 development in the energy region of the Gulf of Guinea.'

– Timothy M Shaw, Research Professor, University of Massachusetts, Boston

'This study takes an innovative approach to the question of how local content policies in Angola, Nigeria and other oil producing states in the Gulf of Guinea target specific developmental needs. Based on extensive fieldwork and a careful reading of the secondary literature, Ovadia provides a refreshing perspective that contrasts sharply with the rather tired determinism of "resource curse" hypotheses, arguing that local content policies are elements intrinsic to the emergence of a petro-developmental state.'

– John R. Heilbrunn, Associate Professor, Colorado School of Mines, and author of Oil, Democracy, and Development in Africa

'In this comprehensive study, Ovadia makes a compelling case for state-led, oil-driven development in the Gulf of Guinea. A "must read" for anyone interested in the political economy of petroleum or the renewed potential of the "petro-developmental state".'

– Dan Danielsen, Professor of Law, Northeastern University
_____________________________________________________________________________
Editors: Tim Di Muzio and Jesse Salah Ovadia
Get 30% off by entering this code PM16THIRTY and using this link.
Summary
This original, timely and innovative collection is the first to offer critical IPE perspectives on the interconnections between energy, capitalism and the future of world order. The authors discuss the importance of energy for our understanding of the global political economy, climate change and key new developments like 'fracking'.
                                                               Teaser trailer:
Reviews
"This work is required reading for all political economists seeking ways to theorise the importance of energy and its connection to the future of the planet. It is a fundamentally important collection by established and up-and-coming scholars who develop thoughtful and nuanced critical political economy perspectives in order to interrogate the links between fossil fuel based capitalist development and questions of accumulation and sustainability in the 21st century. It is an understatement to say that the capital is fully invested in non-renewable sources of energy, and that capitalist market civilisation is grounded in energy intensive forms of production, consumption and distribution. This impressive collection emphatically shows how this situation must be changed." – Stephen Gill, York University, Canada

"The literature understanding climate change politics in relation to the dynamics of capitalism continues to grow apace. Di Muzio and Ovadia's book makes the excellent move of extending our understanding of this by exploring specifically how a global capitalist order is constraining and shaping the attempts to move our energy system beyond carbon, and conversely how that order is being remade by shifts in energy politics and economics. It shows the complexities and nuances of this process in great detail and in diverse contexts, as well as advancing how we understand theoretically and practically the relationship between energy and global capitalism in the context of various challenges to fossil fuel dominance, notably but not only from climate change. A must read for those interested global political economy and its biophysical underpinnings." – Matthew Paterson, University of Ottawa, Canada

"International political economy has never fully engaged with the complex relations between energy and the reproduction of capitalism. Rather than focusing on the well-worn topics of energy security, geopolitics and resource wars, Energy, Capitalism and World Order brings together an outstanding cadre of critical political economists who provide a sophisticated and new accounting of carbon capitalism and its alternatives. A particular historical pattern of energy and capital produced a world order that is now running against strong headwinds of ecological and political economic crises: in short a crisis of social reproduction. Energy, Capitalism and World Order offers broad panoply of perspectives on the historical trajectory and contradictory character of this hydro-carbon assemblage, from ethanol to fracking to climate capitalism and emergent low-carbon transitions. A path breaking and innovative rendering of petro-market civilization and the prospects for a post-carbon age." – Michael Watts, University of California, USA

"In an age of global warming, it is arguably only with books such as Energy, Capitalism and World Order that contemporary critical political economy seriously begins to pursue its self-proclaimed mission. Be that as it may, Energy, Capitalism and World Order offers highly recommended readings on issues that, given their salience, are very much under-researched." – Magnus Ryner, King's College London, UK